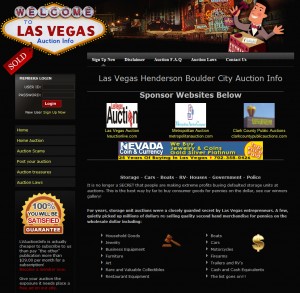 About 2 years ago my buddy Jeff and I would kick back and have some deep idea sessions.  At the time he was making serious money buying defaulted storage auction goods and reselling them on eBay and craigslist.  I had shared the idea with him and he really ran with it.  One day Jeff  called while he was waiting for an auction.  He said, you know there are all these people sitting around and they would probably pay a subscription to have a website with all the storage auction information in one place.   Having myself been a storage auction buyer and successful at it, the thought had crossed my mind in the past, but it was one of those ideas you just don't know what you want to do with it.  My biggest issue with the project was that I wasn't sure if the market would support a website.  All of the information was already available from public sources.   I didn't know if people were actually lazy enough to pay a subscription for public information.  So its like 3 a.m. and I get this wild hair, and WHAM! LVAuctionInfo.com was born.
Early on, this website really struggled for an identity, the idea really wasn't to bad of an idea as it turns out.  This website was a pain in my ass, every time I turned around I needed to research and update the upcoming auctions.  One of the things I hated about storage auctions in the first place was the constant research (and moving other people's crap around).  I never did anything with it other than develop the website.  It could have been a really big idea had I done a few minor things with it.
*This was a second layout for this website.
I did my best to give the website to Jeff, but he wouldn't have it.  It turned out that he had his fill of the Las Vegas storage auction scene and was moving on to bigger and better things.  I ended up selling the website to to another storage auction buyer in Las Vegas.  When I owned the website it sold about 12 subscriptions and I think I refunded 3-5 just because I felt guilty.  To be honest, organically this website made me more money than any other website I owned. For my investment of 12 bucks!
There are a couple of lessons that I learned from this website.  When you're developing a website, there are several different ways to make money from it and if you have an idea that allows for subscriptions, that's a fantastic way to make money on the internet.  Think about all of the recurring payments you have – cable, phone, electric, magazine subscriptions, etc.  The companies that sell something you have to pay for each month, they've got it dialed in.  If you don't pay, your service gets shut off.  Also, people are always looking for a better way to receive the information that they want with ease.  If you can provide this, you can receive monthly income from your website.
https://scottrasher.com/files/2020/01/space-on-top.png
0
0
Scott R Asher
https://scottrasher.com/files/2020/01/space-on-top.png
Scott R Asher
2009-12-22 10:18:29
2011-03-26 13:07:38
An idea that snuck up on me.