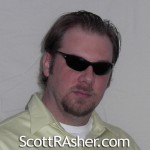 Most of you reading this already know about Facebook marketing and different affiliate marketing techniques. As a matter of fact, I think some of Facebook's success can be directly related to affiliate marketing community. This doesn't really help Facebook with all this money changing hands, Facebook is not getting one cent, and is struggling to monetize its service. This is on top of rumors circling about trying to charge members for Facebook. It will be interesting to see if Facebooks fate will be the same as craigslist, where a good portion of its development will be spent shielding other users from aggressive marketing.
If you are looking for a way to reach the people and more efficiently driving them to your website, then let me recommend putting your website domain on your profile photo. People have an interesting desire to know who you are, like little investigators. I call it sick baster syndrome. Whada going to do, right? You will find people looking up your website before accepting your friend's request, it works well for getting website traffic. For most of you this will only amount to a few hits, but for me with 3000 facebook-friends, that could add up quickly. Personally, I don't want to be friends, I just want them to see my website and get their business. Thanks for reading guys, good fortune in 2010, Happy NeyYears!
https://scottrasher.com/files/2020/01/space-on-top.png
0
0
Scott R Asher
https://scottrasher.com/files/2020/01/space-on-top.png
Scott R Asher
2010-01-01 19:05:59
2010-08-29 17:18:55
Tricky Facebook tip for getting more traffic.