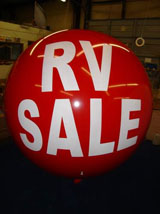 Having a hard time selling your used RV in today's market? Today is your lucky day!! I think I may be able to help you out and unlike other websites the information posted on my website is 100% free.
Something you may not be aware of, but there is a small niche market, currently in Williston, North Dakota, that may allow you to sell your used RV for 2 times up to 5 times what your used RV is currently worth in this sagging market.
Wages are high and the lack of affordable housing is making hard for people moving to the area. With people sleeping at Wal-Mart and some are even camping on the side of the road in tents and sleeping bags. Williston, North Dakota, is the modern day gold rush!
Why?
In the town of Williston, N.D., America's newest oil boomtown, more than 6,000 job seekers have come from every corner of the country looking for work. Yet, oil companies and other developers haven't been able to build housing units fast enough.

In the past year, only about 2,000 new housing units have been built, leaving many workers out in the cold.
Another fun fact to support the idea is, local hotels are charging upwards of $6,000 a month and are booked till next year.
Newer arrivals who can't find vacant hotel rooms or apartments, sleep in their cars, or in sleeping bags on spare patches of grass along the highway. The luckier ones nab a spot in one of the dozens of dorm-like facilities, known as "man camps," that the oil companies have built to house their workers.
Important point – This market might only support RV's in the price range $1000-$10,000.00. Many of the employees salaries are $4,500.00-$12,000.00 a month. Even fast food workers are making as much as$15.00 hour.
Something else that just crossed my mind while I was writing this –You may not be able to sell higher priced RV's, BUT!!! You might be able to rent your RV for a thousand a month or something.
Quotes in this article taken from Yahoo Finance – to read the full article posted on Yahoo
CNN money oil boomtown article here
https://scottrasher.com/files/2011/10/7ft-sale-balloon.jpg
214
160
Scott R Asher
https://scottrasher.com/files/2020/01/space-on-top.png
Scott R Asher
2011-10-29 10:07:24
2011-10-29 20:16:30
Can't sell your used RV? I can help!!!